Social Program
Welcome Ceremony
All registered attendees of APMC 2022 are invited to the Welcome Ceremony to be held at the conference venue on the evening of November 30, 2022.
Enjoy a dynamic flower-arrangement demonstration performed by Hideki Yamamoto.
He won a grand prix at a national flower contest in Japan in 2007, and has been one of the leading flower artists ever since.
Anyone wearing a name badge for "Conference" of APMC 2022 can attend this event without advance reservation nor any extra fee.
Date and Time: 17:30-18:00, Wednesday, November 30, 2022
Place: 2nd Floor Foyer of Annex Hall, Pacifico Yokohama
(* No food nor drink will be served at this event.)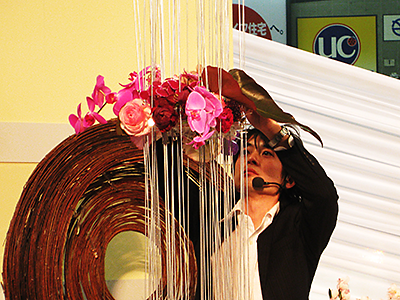 Hideki Yamamoto (Hanazen Florist)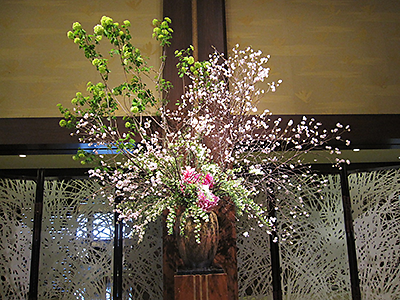 Hideki Yamamoto's flower arrangement work
APMC 2022 Banquet
APMC 2022 Banquet is scheduled to be held at Yokohama Bay Hotel Tokyu on the evening of December 1, 2022.
We will offer a high-quality Western cuisine, along with a live art performance by a very unique and energetic Japanese-calligraphy artist, Nanami Nanasawa.
For the dinner, there will be three menu options available; 1) Regular Menu, 2) Vegetarian Menu, and 3) Muslim-friendly Menu.
A Banquet ticket (15,000 JPY per person) is required to attend this event. Tickets can be purchased on "Banquet Application Form." The number of tickets is limited so that they will be sold on a first-come-first-served basis.
Date and Time: 18:00-19:45, Thursday, December 1, 2022
Place: Queen's Grand Ballroom, 2nd Basement of Yokohama Bay Hotel Tokyu
Ticket Price: 15,000 JPY per person (tax included)
Go to Banquet Application Form

already over
NOTE!
In case the event is canceled due to the Covid-19 situation in Japan, or other irresistible reasons, the ticket fees will be fully refunded.
The calligraphy performance will be photographed and recorded by the organizer, but photography or video recording by the banquet participants will be strictly forbidden during the performance. After the event, you will be allowed to take pictures of the completed calligraphy work.
The performance video recorded by the organizer will be uploaded on to YouTube after the event. Please note that some of the banquet participants may have their faces seen in the background in the movie as the whole room will be recorded during the performance.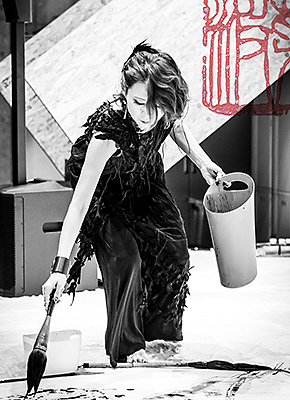 Nanami Nanasawa, Photo by Koji Shirota (Official Website and Instagram)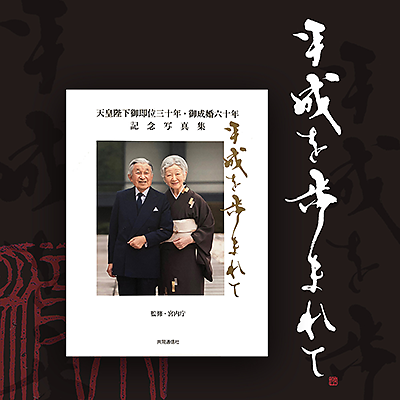 Photo Book of 30th Anniversary of Enthronement of His Majesty the Emperor (now Emperor Emeritus) and 60th Anniversary of Royal Wedding. The title of the book was calligraphed by Nanasawa.