APMC Student and Young Engineer
Design Competitions
Schedule is updated (Nov. 5, 2018)

Instrument and measurement cooperation request
(deadline Oct. 26, 2018) announced (Oct. 16, 2018)

Entry closed (Oct. 15, 2018)

Prize money announced (Oct. 5, 2018)

Entry opened (Aug. 3, 2018)

APMC 2018 Student and Young Engineer Design Competitions (SDC) will be held during APMC 2018. All students and young engineers in microwave engineering are invited to challenge the following competitions.
---
Read the schedule and notes carefully and
Click here for Entry! (go to Google Form)
If you cannot access the Google Form, please fill in the Excel spread sheet below and email it to APMC 2018 SDC committee (apmc2018sdc@apmc2018.org).
---
Awardee
Track A (Active):
Kentaro Kawabe (Ryukoku University, Japan)
Track B (Passive):
Taro Matsumura (The University of Electro-Communications, Japan)

Tomohiro Tsukushi (The University of Electro-Communications, Japan)

Li Chia-Lun (National Central University, Taiwan)
Track C (WPT):
Misaki Fujishrio, Daisuke Kobuchi, Ryoma Kondo, Yoshiaki Narusue, and Hiroyuki Morikawa (The University of Tokyo, Japan)

Taku Sato, Yuki Ikeda, Shota Watanabe, Takuto Shoji, Takeshi Watanabe, and Johannes Anak Laurence (National Institute of Technology,Sendai College, Japan)

Shinji Abe, Shogo Nishioka, Takaaki Masaki, Ryoichi Baba, Ryota Gibo, Keisuke Miyaji, and Shoichi Isogai (Toyohashi University of Technology, Japan)



Track D (Tx line):
Tzu-Yu Hsia (National Taiwan University Graduate Institute of Communication Engineering, Taiwan)

Junhyung Jeong and Qi Wang (Chonbuk National University, Korea)

Yi-Cheng Wong (National Taiwan University of Science and Technology, Taiwan)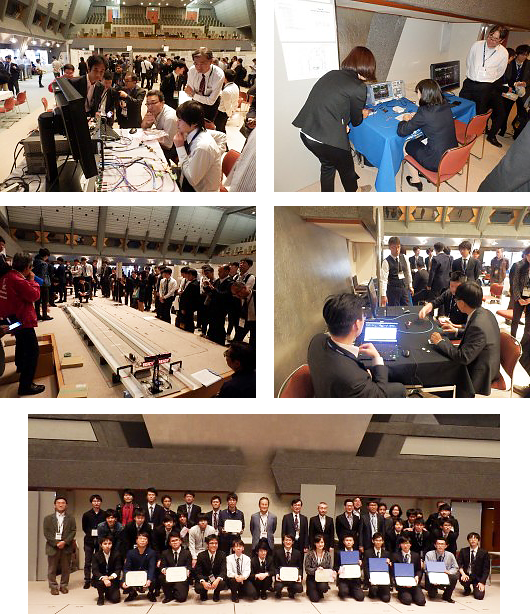 Schedule
Deadline of the entry is October 15
(Hawaii-Aleutian Standard Time (HAST) 23:59).

The number of contestants is limited. The entries are accepted on a first-come-first-served basis.
All contestants (or teams) must submit a check sheet for entry confirmation by October 15 (HAST 23:59).
(The required check sheet will be sent to contestants after the entry.)
The competitions will be held in room A on the 8th of November (The third day in the conference period).
*Track B and C: 9:00 - 16:00
*Track A and D: 13:00 - 16:00
The Award Ceremony for the SDC will also be held in room A from 16:40 to 17:00 on the same day after the competitions..

Prize Money
The top three in each track will be awarded prize money.

First prize: 50,000 JPY
Second prize: 20,000 JPY
Third prize: 10,000 JPY
Request for Instrument and Measurement Cooperation
Measurement and Instruments were supported by:
Track A (Active): supported by Keysight Technologies
N5242B PNA-X Microwave Network Analyzer, 26.5 GHz N6705C DC Power Analyzer, Modular, 600 W, 4 Slots

Track B (Passive): supported by Rohde & Schwarz Japan
R&S® ZND Vector Network Analyzer

Track C (WPT): supported by Kikusui Electronics
PWR401MH, PMX35-3A, PMX18-5A

Track D (Tx line): supported by Anritsu
Vector Network Analyzer MS46522B
Notes
Each person can apply for only one track.
All contestants for the SDC need registration to APMC 2018 in addition to the entry to the SDC. Please register yourself for Superpass or Conference (Audience). The entry fee for the SDC is free of charge.
The contestants shall have responsibilities for transportation and customs clearance procedure for their fabricated units.
Non-members of the IEICE can participate in the SDC. However, joining the IEICE member is highly encouraged. Anyone can join IEICE before APMC 2018.
"Students" shall be full-time students. "Young engineers" can be at any age as long as they feel young.
For further information and questions regarding SDC, please contact:
APMC 2018 SDC Committee
Email: apmc2018sdc@apmc2018.org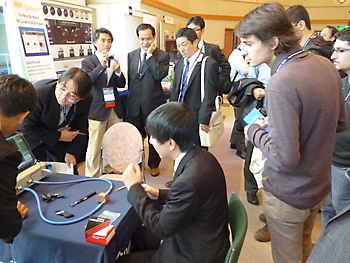 ---